[Review] New Balance 998 "Coastal Pack" (M998PSD)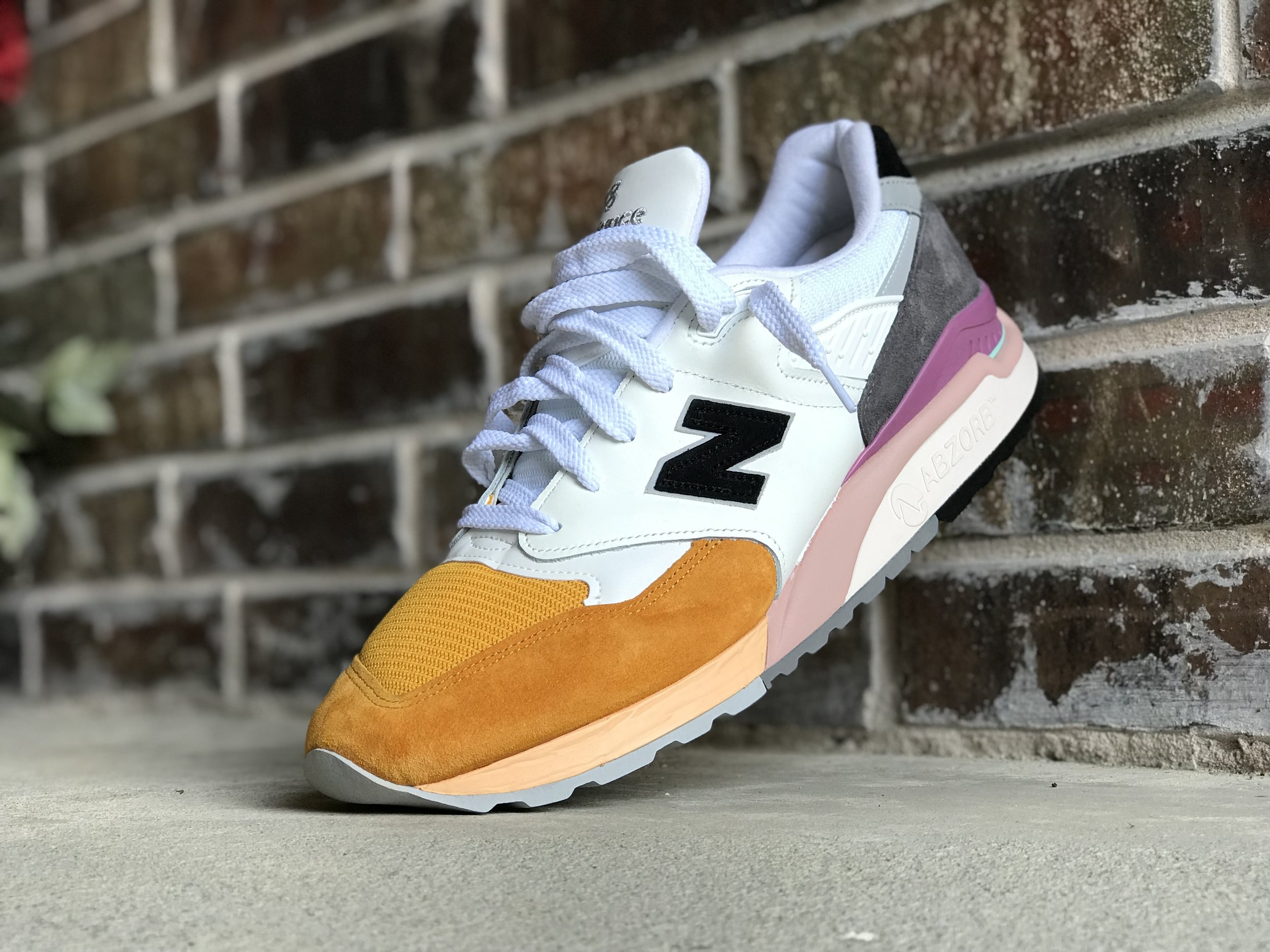 In this sneaker review, we take a closer look at the New Balance 998 "Coastal Pack". It's a men's running shoe inspired by the "Western Gull". See what we think about this sneaker below.

Sneaker Quality:
The materials
This New Balance 998 model includes a richer mix of materials than other GR New Balance models. In addition to the usual mesh, suede, and 3M, this shoe also includes a touch of leather and nubuck.
Suede: First things first, the pigskin suede on this shoe is phenomenal. There's just something about how it changes colors that instantly screams quality.
The bright gold-colored suede around the toe box has a rich texture that feels buttery to the hand and the dark grey suede at the heel is equally plush.
Mesh: Like most 998s, this iteration includes gold mesh at the toebox and along the back heel area is a bit of white mesh. Not only is the mesh pleasing to the add, but it also adds a considerable amount of comfort and breathability to the shoe as well.
Leather: Unlike most New Balance 998 models, this version adds leather on the midfoot area. It's a smooth grained leather that doesn't look or feel that premium, but ultimately doesn't take away from the shoe's overall look.
3M: Staying true to it's running shoe roots, this 998 has its New Balance "N" logo outlined in 3M and there's also 3M strips that run along the heel portion of this shoe. Both are small additions, that ensure that you're seen by while you're roaming the streets at night.
the construction
In case you didn't know from the embroidered tongue, this is a made in the USA sneaker which means that the shoe's construction is on point, but not perfect.
The only issue that I have with this sneaker's construction is the toe box. Instead of coming to a sharp point, the mesh is puffy and rounded, which throws off the overall look of she shoe, in my opinion.
Of course, this could just be an isolated flaw with my pair, but it definitely is something that should be noted.
Sneaker Fit & Comfort:
sizing
When it comes to most New Balance 998 models, I would suggest going true to size. However, those with narrower feet can potentially go down a half-size due to this shoe's generous width.
Of course, these are just general suggestions based on my fit preference.
Also, if you're someone who likes to wear thicker socks, it's definitely suggested that you stick to your true size.
cushioning
The New Balance 998 is a running shoe turned lifestyle shoes that incorporates New Balance's ABZORB midsole technology.
This makes for a solid, stable feel that differs from newer midsole technologies from Adidas (Boost) and Nike (React), that deliver more softness, but are less durable long-term.
Over the long haul, you can expect this New Balance to deliver consistent comfort mile after mile.
Sneaker Style & Value:
The wearability
This is the perfect spring and summer shoe that combines a unique set of eye-popping colors seen on a Western Gull. For this reason, I've got to give New Balance props for going to nature for this design.
As far as styling this shoe, I'd suggest keeping it simple with the clothes to let the spotlight remain on the shoes.
A simple white tee and shorts or light-washed denim would definitely do these shoes justice and turn a few heads in the process.
the pricing
Don't get me wrong, I love this shoe's overall look and feel, but I feel like the $200 price tag is a bit unnecessary.
I'm guessing because the shoe incorporates leather, that New Balance decided to tack on an extra $20. This seems rational, but the leather isn't that great and doesn't really add much to the shoe in terms of style.
So even though I love the colorway, I wouldn't recommend that anyone pay retail for these. I was fortunate enough to find these on sale from Nordstrom for only $133, hopefully you can catch a similar deal, as well.
The Insider Rating:
EXCLUSIVE SNEAKER SCORECARD

Sneaker Gallery:
click to enlarge
Jared Watson
Founder & Chief Editor
Jared has merged his creativity, business acumen, and passion for helping others, to form a digital space committed to educating, engaging, and empowering people across the globe. #RetroSneakerLover