Review: 2022 Air Jordan 1 Retro High OG "Heritage"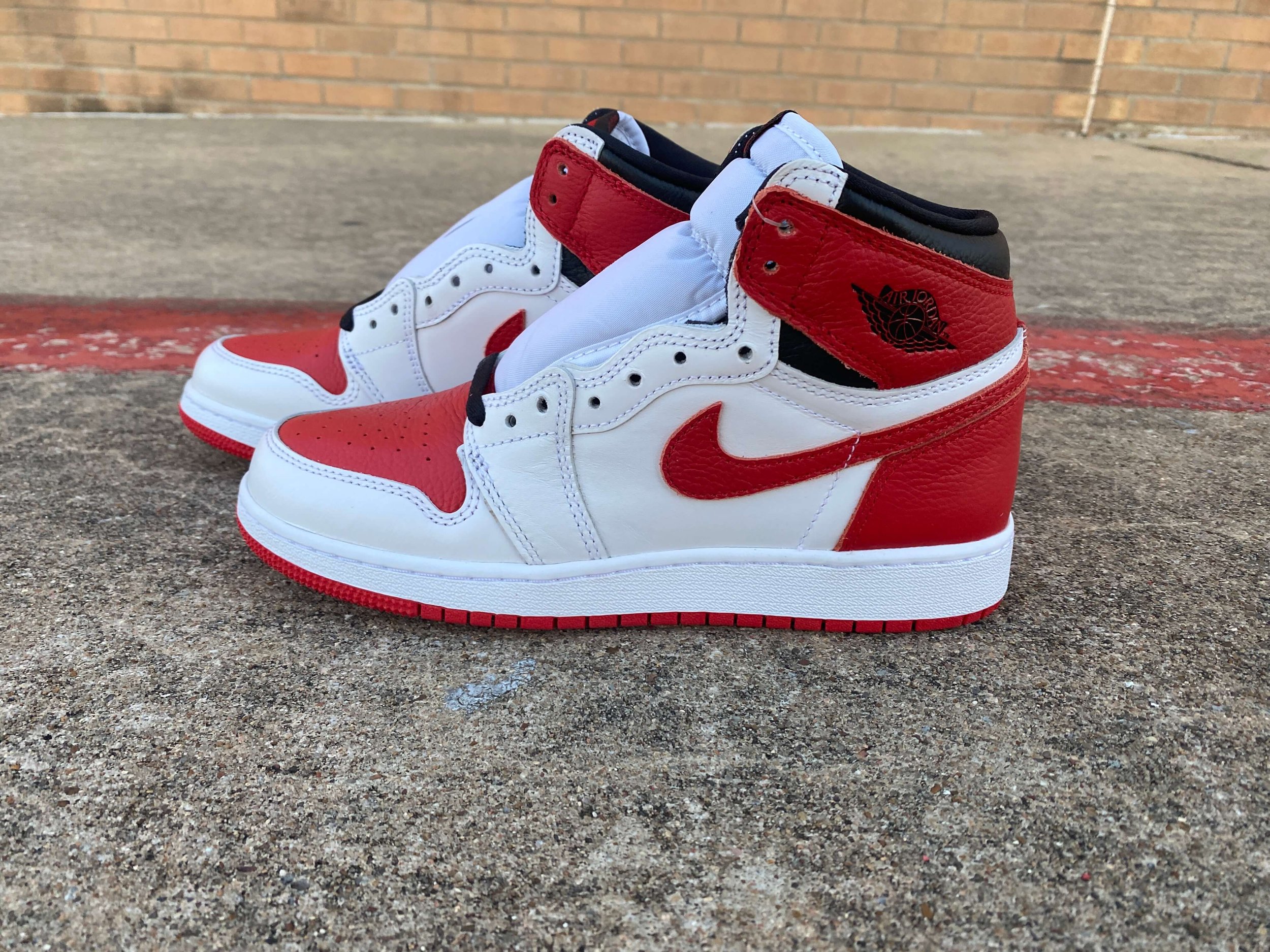 I've said it before, but I'll say it again for the newbies on the site…..

I don't expect a whole lot from Jordan Brand these days in terms of material quality and craftsmanship. Even as retail prices increase at a more frequent pace than usual, you just never know what you're going to get on either front. At this point, you cop and cross your fingers that your pair is in good shape when it arrives.

There were no major issues with the pair I purchased, but keep in mind, your experience may be different due to inconsistencies with Jordan Brand's quality control measures.

I didn't notice any loose threads or glue stains on either pair so that's a positive.

Leather: The leather quality wasn't too bad on this pair. The red panels and black ankle collar on the shoe were tumbled in texture and was fair soft. As far as the white overlays, they were made of a smoother leather.

Sock-liner: I like what Jordan Brand did with the sock liner on this shoe. Instead of the traditional cotton material, they opted for a neoprene-like textile that's smooth to the touch and has a slight sheen to it. I'm not sure many people pay attention to things like this, but it's worth mentioning in my opinion.
Let's be clear….Air Jordan 1 Retros are '80s basketball sneakers that haven't had any major tech updates since the original 1985 release. Because of this, you won't get plush comfort from this shoe. It's not a terrible option, just stick to styin' and profilin' in this shoe, or your feet will pay the price. On the bright side, they'll feel better as you break them in.

Midsole Comfort: Initial step-in comfort is firm, but gets better with each wear. As a guy who wears a lot of runners, I can definitely fell how much more rigid sneaker's midsole is compared to runners which are more flexible.

The all-leather upper feels 'meh' to the foot upon entry. One thing to note is that the shoe obviously doesn't offer much breathability so keep that in mind when wearing warmer weather.

As noted earlier, the sock-liner material does feel comfy and the padded ankle collar hugs your ankles like your granny.
My Thoughts On The "Heritage" Air Jordan 1
I'm going to keep it 100 with you….I feel like Jordan Brand has been taking a few steps backwards here in 2022 when it comes to Jordan 1 colorways.
Don't get me wrong, I still love the silhouette when they're done "right", but Jordan Brand has been missing the mark as of late with a lot of its releases - including this pair in my humble opinion.
When I first seen pre-release mockups of this shoe, I was put off mainly by the white toe-box. I wasn't a fan of this style of color-blocking even when it was used on the Fragment x Travis Scott AJ1 highs.
On the flip side….As I see more on-foot images of the shoe on IG and people rockin' them with their fits, I can say that the shoe is slowly growing on me a bit.
Growing on me enough to cop a pair? Not quite, but never say never.
By no means is this the worst AJ1 to release, it's just not my cup of tea and could've been executed a lot better.
For me, I choose to go a half-size down from my normal Nike size (US12) when buying Air Jordan 1s. I prefer my shoes to be more snug than roomy, so going with an 11.5 allows me to wear the AJ1 untied without having to worry about foot slippage.

For more sizing help, check out our Air Jordan 1 Fit and Sizing Guide linked below.

Absolutely. Spray a stain and water repellent on them before you rock 'em and you're good to go.

Even after you get them a little dirty after normal wear, you can easily clean the upper and midsole, as both aren't as delicate as certain shoes that contain suede or other porous materials.

Although I'm not the biggest fan of the shoe, if you like it - then by all means BUY IT.

Don't let my opinion or anyone else's sway your feelings for the shoe. They aren't going on our feet, so buy 'em and rock 'em with confidence.

Fortunately, resell prices for this shoe are reasonable so even you can, go ahead and pull the trigger before prices rise.



YOUR TURN
How do you feel about the Air Jordan 1 "Heritage"?
leave a comment below
Jared Watson
Founder & Chief Editor
Jared has merged his creativity, business acumen, and passion for helping others, to form a digital space committed to educating, engaging, and empowering people across the globe. #RetroSneakerLover