A Detailed Review Of The Teddy Santis x New Balance 990v2 "Black Camo"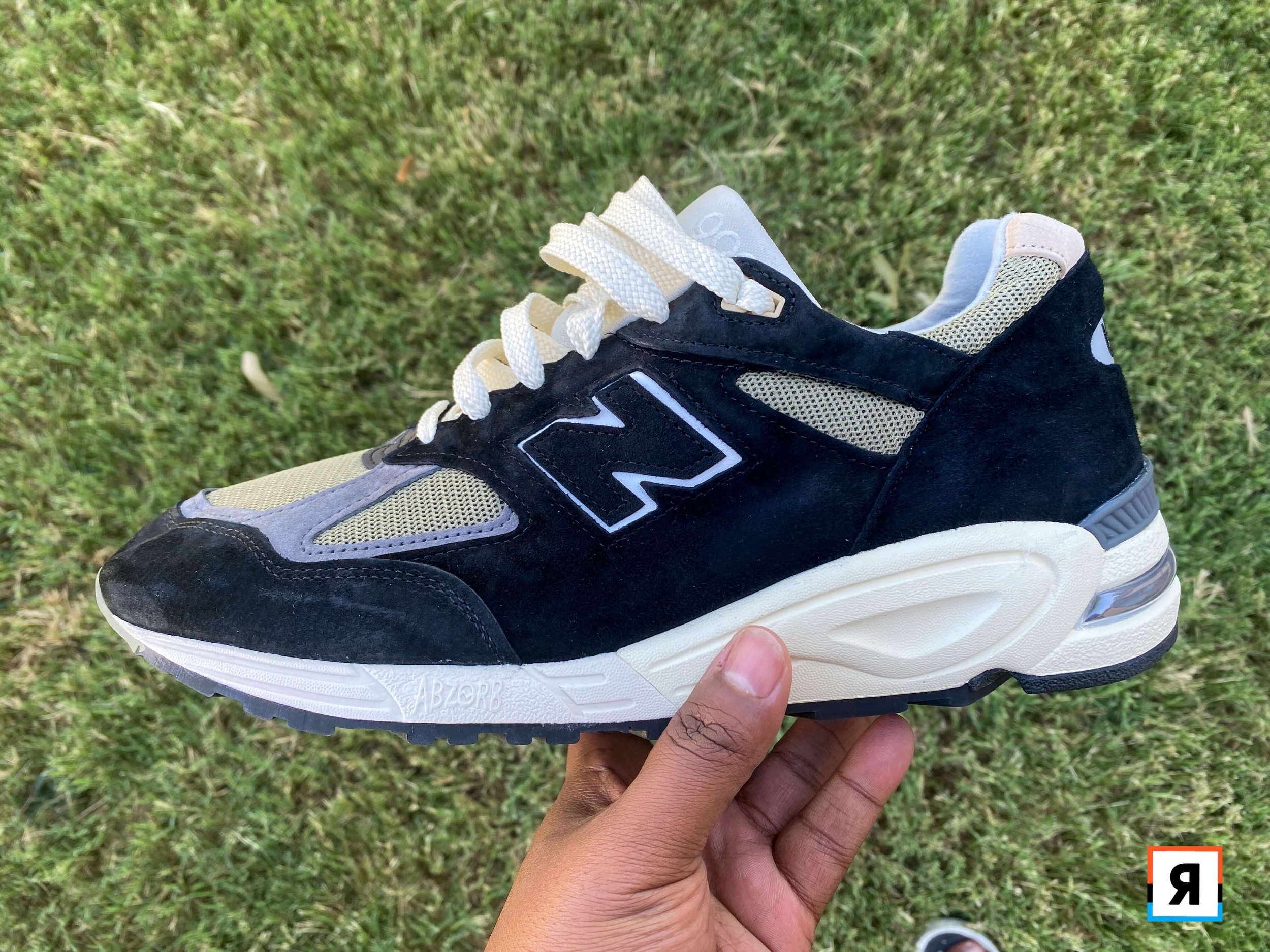 New Balance Drops Another Classic 990v2 For Their 2022 "Made" Collection!
My Initial Impressions
Pros: Colorway and Comfort
I can't say enough about how good this shoe looks. The colors are perfectly placed.

These are hands-down the most comfortable New Balances I own.
Cons: Canvas Tongue
I'm being nitpicky here, but I would have preferred a suede or mesh tongue over the canvas that was used. It isn't as soft as the other materials.
When it comes to sneakers, it doesn't get much better than this for me. When I first came across images of these, I instantly considered them a "must cop". This pair check all the boxes in terms of quality, styling, and comfort and will take a very special place in my wardrobe.
Before to purchasing these, I was considering buying another black pair of 990v2s, but my patience has served me well in this case, as I'm a huge fan of this pair. The expert choice and implementation of colors and materials are a manifestation of Teddy Santis' design ethos which is classic, sophisticated and tailored to my personal style preference.
How is the Craftsmanship?
New Balance models like the 990v2 that are constructed in the Boston, Massachusetts factory are some of the best-built sneakers available on the sneaker market today. Most of the quality control issues (ex. glue stains and poor stitching) that plague other sneaker brands' shoes that are made outside of the US are nearly non-existent on New Balance 'Made' series sneakers.
My pair came in immaculate condition, so there were no quality control issues on either shoe. The stitching was neat and every suede panel was in pristine condition straight out of the box with no blemishes or stains anywhere.
what are the Materials like?
Once again, New Balance used some of the best suede and mesh materials that you'll ever find on an athletic sneaker for this pair, but at this point, it's to be expected.
Plush Suede: The majority of the upper is adorned in panels of black suede that look and feel equally amazing. A quick stroke of the finger across this shoe and it comes alive as the suede fibers shift colors right before your eyes in a sign of quality.
In addition to the black suede, you'll find subtle hints of dark grey and beige suede panels that are equally as impressive and add a nice touch of contrast to the colorway.
Breathable Mesh: The shoe's mesh panels are a great compliment to the black suede and provide the shoe with functional styling that adds lightweight breathability and comfort to the shoe.
The mesh not only looks amazing paired with the suede, but it feels good as well. It has a softness that is much different that the mesh panels often found on modern running shoes today.
Canvas: The shoe's tongue is comprised of a canvas material that matches the off-white laces and midsole. Personally, I would have preferred a suede or mesh tongue, but that's just my personal opinion.
recommendation
How To Clean
I may earn a small commission if you purchase using one of these links.
How Comfortable Is The New Balance 990v2?
The general consensus around the sneaker community is that New Balance makes some of the most comfortable sneakers on the market, however, the New Balance 990v2 may be the best the brand has to offer. I've owned and worn 12+ New Balance models and the 990v2 continues to stand out as the one my feet love the most and here's why:
Lightweight: Since the 990v2 was originally released as a running shoe, you don't have to worry about it feeling heavy on-feet, despite its bulky profile. This makes for it being a great all-day, everyday footwear option.
Balanced Cushioning: The 990v2 ABSORB midsole technology harkens back to a day when comfortable running shoes aimed to prove the right amount of cushioning without sacrificing stability. New Balance got it right by creating a shoe that is soft, but substantial enough to feel great for mile after mile. Are there "softer" shoes? Yes, but none than offer consistent comfort throughout the life of the shoe.
Longevity: While I haven't owned this particular shoe for very long, my other 990v2s have been absolutely workhorses. I'm a big guy who isn't shy about wearing my shoes in less than ideal conditions and the 990v2s I own have always withstood anything I've thrown their way. After years of moderate to heavy wear, they still maintain a high level of comfort and seem to get better with time.
recommendation
Where To Buy
Even if you missed out on the original release, you can pick up an authentic pair from one of the trusted selling platforms listed below.
I may earn a small commission if you purchase using one of these links.
How Does The New Balance 990v2 Fit?
The New Balance 990v2 fits roomy from a length and width perspective when going true-to-size and for this reason, I like to go a half-size down to an 11.5 from my normal 12.
I personally have a slightly wider foot and prefer a more snug and secure fit when buying sneakers, so going with an 11.5 works perfectly for me and allows me to wear them loosely laced with no heel slippage.
You can check out our complete New Balance 990v2 Fit and Sizing Guide where we share more sizing recommendations based on your individual foot type and for preference.
Detailed Images:
Thanks for comin' through!
Jared Watson
Founder & Chief Editor
Jared has merged his creativity, business acumen, and passion for helping others, to form a digital space committed to educating, engaging, and empowering people across the globe. #RetroSneakerLover