Release Guide: Women's Exclusive Nike Dunk Low "Orange Paisley"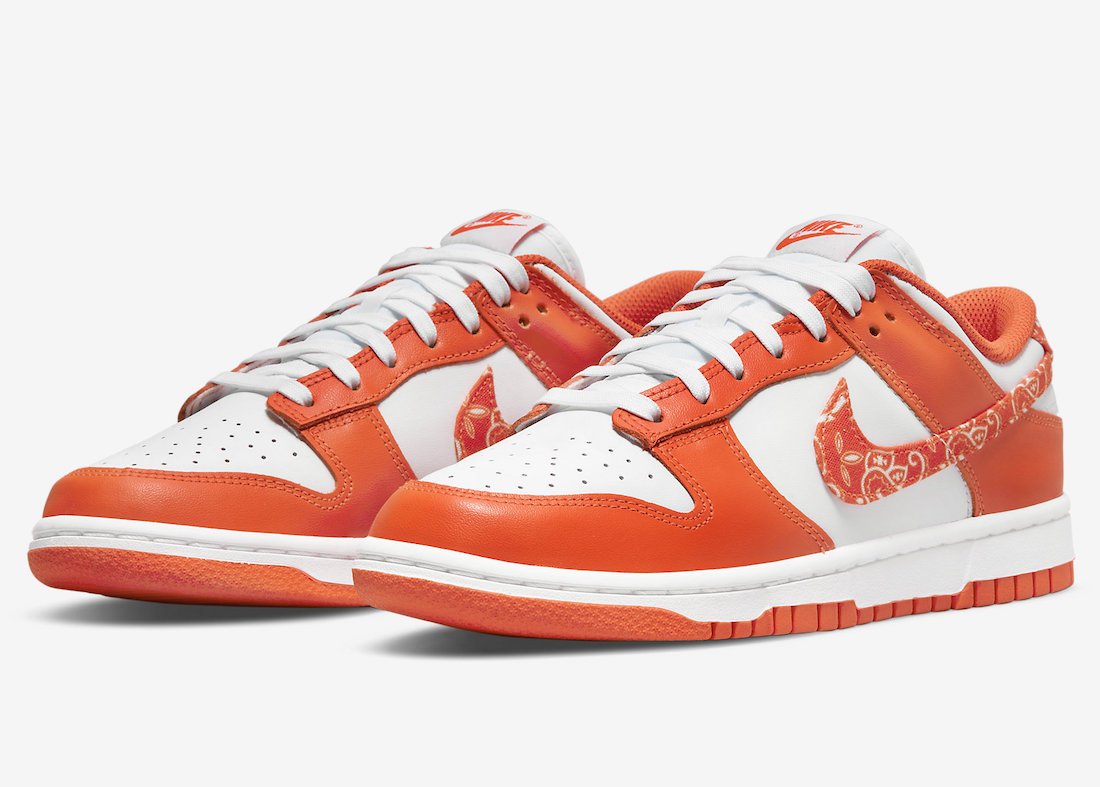 Another No Brainer, Women's Exclusive Nike Dunk!
Nike has announced its next round of summer sneaker drops, which includes the upcoming women's exclusive, Nike Dunk Low "Paisley Orange." It comes after the "Blue" and "green" colorways released earlier this year.
This "Orange Paisley" offering of the new Nike Dunk Low sports a white leather base with orange overlays, branded tongues, insoles, and a rubber outsole. For added visual interest and appeal, the Swooshes and heel tab are printed with paisley bandana patterns.
If you've purchased a pair of Nike Dunks over the past few years, you'll know what to expect when it comes to the quality and cut of the leather used to construct the shoe. Lastly, the shoe will come housed in the traditional red Nike box that we've all grown accustomed to.
Release Date and Pricing Info
The 2022 Women's Nike Dunk Low "Orange Paisley" is scheduled to be released on June 17, 2022, on the Nike SNKRS app and will both retail for $100. It should go without saying that this pair will be in high demand, so be locked in loaded at 10 am EST on the app to make sure you secure your pairs.
Here's an updated list of where you can purchase this sneaker. (Each Is A Clickable Links)

Nike SNKRS

If past Nike Dunk low releases are any indication of how this release is to go, then you can expect this to be a relatively tough shoe to cop.

If Nike SNKRS happens to be the only place this sneaker will release, that will make it that much harder to snag.

Unfortunately, not. It looks like the Nike Dunk Low "Orange Paisley" sneakers are only going to be released on the Nike SNKRS app.

Generally speaking, the Nike Dunk Low fits comfortably at true-to-size. For that reason, going with your most common Nike size will be suitable for almost everyone.

Those who are in-between sizes or prefer to have a snug fit may want to consider going down a half-size.

This may also reduce creasing as well if that's any concern to you.
LET US KNOW…
Will this Nike Dunk Low be a cop or pass for you?
DROP A COMMENT BELOW!
Jared Watson
Founder & Chief Editor
Jared has merged his creativity, business acumen, and passion for helping others, to form a digital space committed to educating, engaging, and empowering people across the globe. #RetroSneakerLover