The Ultimate New Balance 993 Fit and Sizing Guide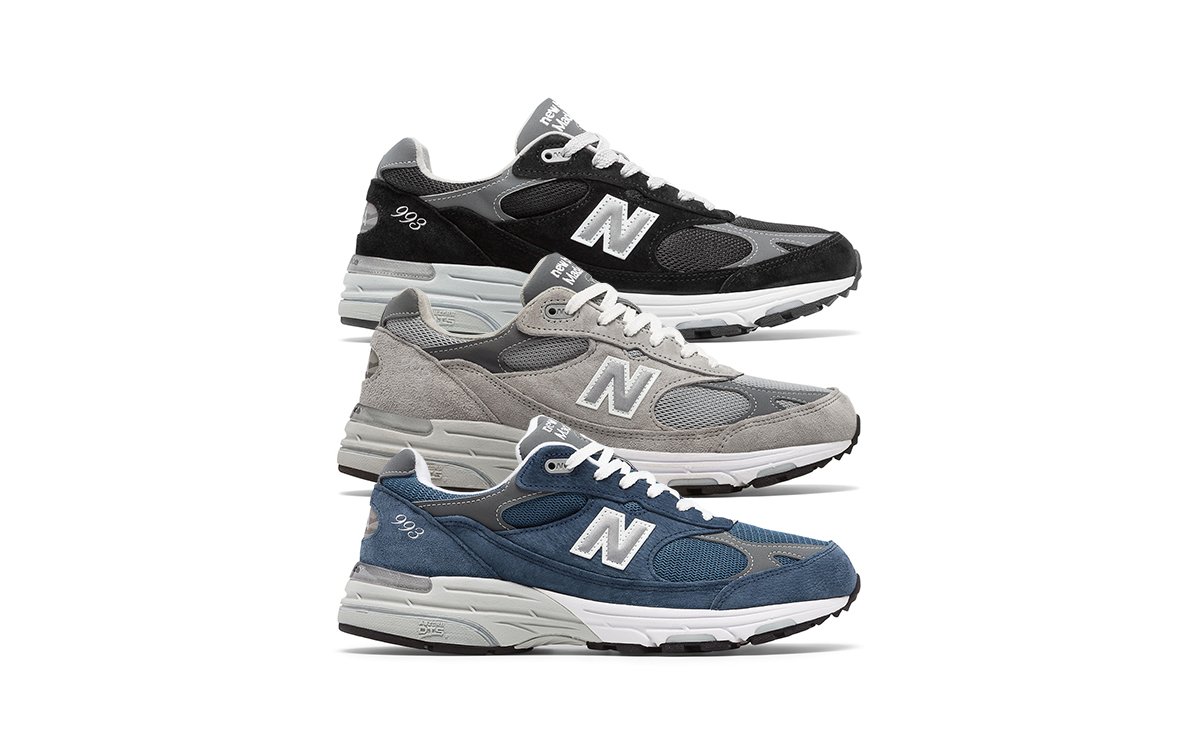 HOW DOES THE 993 FIT?
The New Balance 993 runs slightly larger than true-to-size.
Generally speaking, the New Balance 993 fits a little larger in length and width than most other running or lifestyle shoes on the market today. For that reason, most prefer to go down a half-size from their normal shoe size, but continue reading for more helpful tips based on your individual foot type and/or fit preference.
I usually wear a US12 in most Nike and Adidas shoes, but I prefer a US11.5 in the New Balance 993. The shoe fits just right, with no heel slippage even when worn with loose laces. Now I can admit that I prefer to wear my shoes on the snug side, but even being a big guy with chubby feet the 11.5 works.

If you consider yourself to have narrow feet, you can easily go down a half-size from your normal Nike shoe size with the 993 and be safe. Since this model of New Balance has a wider toe-box, you'll notice that the shoe feels roomier than you may be used to at true-to-size. If you're in between sizes like me, go with your smaller size.

Those with wider feet will more than likely prefer to stay true to size depending on how loose or snug you like your shoes to fit. As mentioned earlier, the New Balance 993 does have a roomier toe area which lends itself to being a great shoe for "widefooters".

If you prefer as snug fit or like to wear your shoes loosely laced, then you should definitely go down a half-size from your normal Nike running shoe size.

If you prefer as roomy fit or like to wear your shoes tightly laced, then you should definitely stay true to size or get your most common Nike running shoe size.

The New Balance 993 fits similarly to every shoe in the entire 990 series. They also share a similar fit profile with the New Balance 992. Whatever size you normally wear in those sneakers will work for the 993.
The shoe's running and performance DNA makes it a great option for all-day wear, although it's no longer marketed as a performance running shoes. The shoe's Encap midsole tech provides the near-perfect blend of cushioning and support which allows them to be a great grab-n-go shoe that can be worn on the weekends or even at the office.

Most releases offer a upper primarily comprised of rich panels of mesh and pig-skin suede that offers lightweight breathability that looks amazing due to the quality. Occasionally, some models do feature smooth leather panels in place of the suede which provides a less sporty vibe.

If you're rough on shoes, then cleaning shoes like the 993 can be a bit challenging and tricky due to the delicacy of the suede and mesh. However, RESHOEVN8R offers amazing products like the Dry Suede Kit and Essential Shoe Cleaning Kit that provide everything you need to keep the suede and mesh clean without ruining the nap or texture of the shoe for a reasonable price.

If you're into the "dad shoe" aesthetic and don't mind paying for quality, then the New Balance 993 should definitely be on your radar or wishlist for upcoming pickups. Even at its current price point, there aren't many shoes that offer the same level of quality, comfort, and practicality all in one package.
now it's your turn
What are your thoughts on how 993s fit? Share your insights in the comments below!
Jared Watson
Founder & Chief Editor
Jared has merged his creativity, business acumen, and passion for helping others, to form a digital space committed to educating, engaging, and empowering people across the globe. #RetroSneakerLover